This is a Sponsored post written by me on behalf of
Comfort and Harmony
. All opinions are 100% mine.
High five to myself and Penny for making it to the 15 month mark of our nursing relationship!
It wasn't always easy; early on we battled positioning issues and a difficult latch. But our triumphs outweigh our hardships! We successfully ditched
the shield
after 3 weeks and even maintained a
sense of humor
while learning how to nurse in public while traveling. Nowadays, this seasoned mama can scope out a comfortable spot *like that* and settle in with her nursling. Like in the back of our suburban on our recent
camping trip
.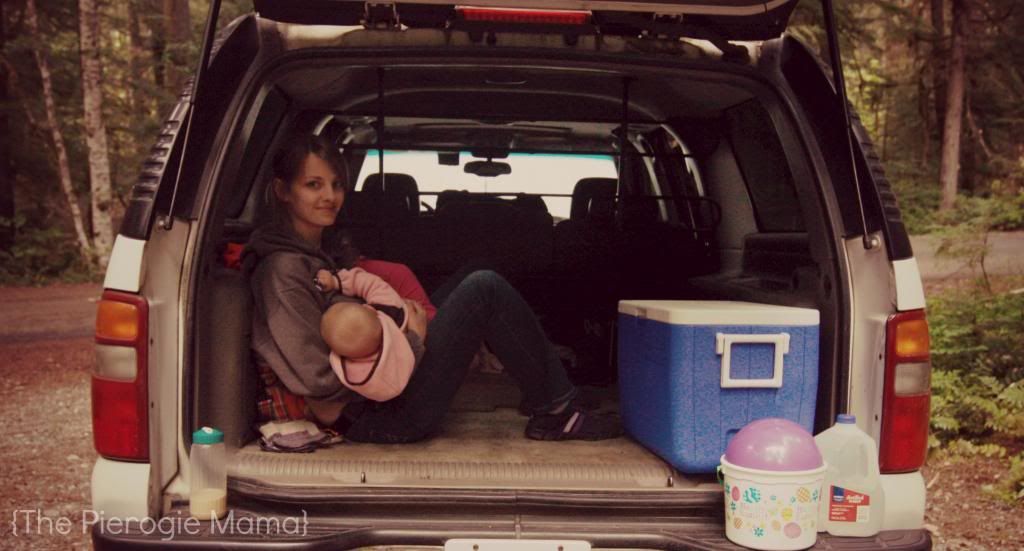 One of my biggest aids has been our nursing pillow. It's kept Penny up to the right level, gave my arms a rest and even freed my fingers for a quick email or text here and there. A lot of moms use their nursing pillows for other uses - like positioning the baby to help encourage sitting up on their own or for tummy time. Penny didn't start to enjoy using the nursing pillow for other uses until toddlerhood - now she loves sitting in the comfortable U-shape while watching her daily allowance of Elmo (and I get a bit of house work done while I have the chance!).
The Comfort & Harmony
mombo
nursing pillow
has 2 really cool features that my standard pillow does not:
Its two sides differ in firmness. The nursing side is supportive to help Mom get her baby close and secure for a comfortable nursing session. The other side is softer, which helps the baby with tummy time.
It has a "vibe inside," to offer a soft vibration to help soothe the baby. Gosh, I wish I had that for the early days!
The mombo nursing pillow is available at
Toys 'R Us and Babies 'R Us
, along with a variety of other Comfort and Harmony products - ranging from bouncers, swings and shopping cart covers.
Follow
Comfort & Harmony on Facebook
and
Comfort & Harmony on Twitter
so that you can be in the know for deals!