I had this beautiful post almost all written up about
wanderlusting
to Lake Moraine in Banff National Park - and then I came across a much, much cooler idea. Enough that I abandoned that post (fear not, it might resurface again if I have some writer's block) and started this one.
Once becoming the parents of the Pierogie, the idea of travel has sort of changed for us. We used to be the atv'ing, waterfall climbing, snowmobiling, rafting type of couple. No, not adventure junkies perse - but this kind of goes into the whole preface about how the hubs and I had to find a mutual understanding of how to spend our free time/money. So,
he
likes all things with motors,
she
likes all things nature - which led to the purchase of a couple atvs, that trip out to Colorado, and even a trip down to San Francisco.
But as parents some of these things just aren't really possible. Doesn't mean we won't ever be doing it again, but the law certainly does frown upon letting your child ride in your lap on an atv. Even if they are wearing a helmet (JUST KIDDING people, I would
never
do that!). So
we've
I've been thinking about how to accommodate the little miss and keep it fun for the entire family.
Starting with road trips. For one, Penny is pretty tolerant of the car seat to an extent. However, I don't see her being cool with it for a trip that takes several days to get there. And I personally don't want her to have to endure that. So that traditional all-American family road trip idea is on hold for a few years, but we definitely will be hitting the Grand Canyon before you know it.
Instead, I've been thinking about how to travel far distances in other ways. The
Alaskan cruise
was one idea - and my next idea that I have yet to present to the hubs is a
train ride across the Canadian Rockies
.
A simple google search for "train ride across Canadian Rockies" will turn up a plethora of train companies who have packages all set up for you based on your desired destination, travel time and budget. I'm not going to get into the nitty grittys of what those companies offer - because the idea behind my
Wanderlust
is to present pictures and ideas. As much as you would like for me to be, I'm not your reservations agent ;)
Come along as we embark on a pictorial journey of what it would be like to ride the train from Vancouver British Columbia to Banff National Park in Alberta.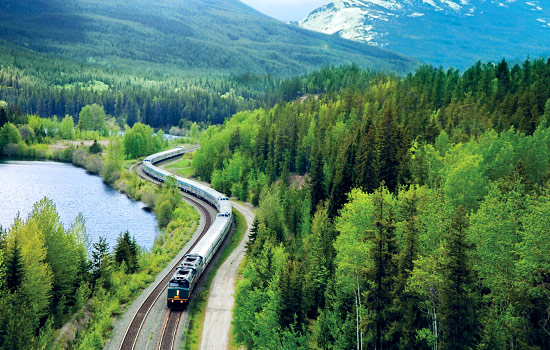 The best part about the train? You get to sleep through the boring parts. When departing Vancouver, you leave in the evening and when you awake the next morning you're already in Jasper BC.
Jasper was originally a fur trading post and has since become a popular stop for those visiting Alberta.
The next stop is Banff National Park - home of gorgeous Lake Moraine and Lake Louise. You'll travel via the Icefield Parkway.. probably my most favorite part of the trip. Why? Because you get to ride on a bus that's taken some steroids and walk on a glacier!
I was born in Calgary and I know that my mom has pictures hidden away somewhere with us on one of these things..
And lucky you - getting to stay overnight at the hotel at Lake Louise! What a baller.
The next day you spend some time exploring Banff National Park. Depending on the time of year, you have the pick of the crop for hiking, canoeing, skiing, snowshoeing, helicopter tours.. and as always, don't feed the wildlife. From beavers to grizzly bears, it's like the Canadian Yellowstone.
While you're there, take a dip in the world renouned hot springs..
Cave and Basin National Historic Site
Your final destination is in Calgary - my original hometown. Though to be honest I think the last time I was there I was less than 10 years old... So perhaps it's time for a revisit.
Have you ever taken a long train ride anywhere?
What did you like or not like about the experience?